Airbnb Cleaners Sydney | Quality Airbnb Cleaning Services
AIRBNB CLEANERS SYDNEY | QUALITY CLEANING SERVICES SYDNEY
Affordable pricing structure.

100% satisfaction guarantee.

High-Quality machinery usage.

Experienced and trusted professionals are at your service.

Schedule an online booking and avail us within the next day.
OZYWIDE Cleaning provides for professional AIRBNB Cleaners Sydney across the Sydney Region. We also offer specialist:
We also service the entire Sydney metro
Significance of Hiring a Professional Airbnb Cleaners Sydney Service
None can deny the importance of the first impression when a guest arrives. This ensures the profitability and potentiality of your business. Therefore an immaculate look is always preferred.
When it comes to Airbnb property cleaning, a flawless cleaning needs to be done after a guest leave and prior to the next guest's arrival. The thoroughness of your cleaning will ensure the satisfaction of your guests and further the success ratio of your business. The issues that most of the Airbnb owners face is where to find a professional Airbnb cleaners in Sydney services within a short-notice.
Here comes OZYWideCleaning to eradicate your problem. Since you need to maintain standard cleanliness to as not to let down your guests, a professional-grade cleaning service is an optimal solution. Else you may stumble upon negative reviews, poor ratings, and whatnot to crash your business. With our full-service cleaning solutions tailor-made for Airbnb owners you can expect a standard level of cleanliness including sweeping, vacuuming, mopping the floors, throwing the trashes, wiping the door handles, light switches, cleaning the tubs, sink, toilets, etc. So, call us now to schedule a deep cleaning with us.
OZYwidecleaning Airbnb Cleaning Sydney Service Categories
We have a range of cleaning services tailor-made for your business. However, to ensure all our services suit your pocket, we have designed an affordable package for our service categories. Our popular service categories include,
Full Cleaning Service
One of the best ways to enhance your Airbnb room reputation is by giving your guests an outstanding experience while they stay. And that is not possible without a cleanroom. Ozywidecleaning provide a full end to end Airbnb cleaners services in Sydney for your Airbnb property including the bedroom, bathroom, living room, and kitchen, and more. Call us to enquire further!
Green Cleaning
In order to ensure the safety of your guests and every one, our Airbnb cleaning experts use only non-toxic and environmentally friendly material. We will make sure your guests don't expose to harmful products and anything that would irritate them while their stay. You can have extra attention by showcasing your concern for the environment and everyone around you. We don't only use gree cleaning products for Airbnb services but for all.
Linen Changes
We help you in every possible way to make you the top host. Therefore, we make sure the linens are cleaned and tidy. We won't only clean the surface but also our experienced cleaners run a deep cleaning to ensure everything is dirt free. As soon as your guests leave the room and new visitors come to the place, we take charge to make this place the best living place on the earth.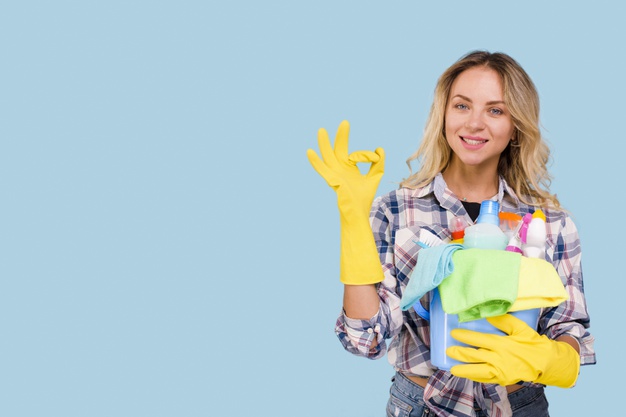 Professionalism
A professional Airbnb cleaner can not only help you save your time and energy but also enhances your business. At Ozywidecleaning we understand your business requirements and our expert understands the demand of customers in the hospitality industry when it comes to the cleanliness of the place. So, we make sure the place is an excellent choice for your guests with our highly skilled and professional cleaners who prioritize professionalism on the top.
What Can You Expect From an Airbnb Cleaning Sydney Service Provider?
Cleanliness is undoubtedly non-negotiable in an Airbnb property. A clean property is always essential to attract guests and convince them to give a 5-star rating. Here's what you can expect from an Airbnb cleaner,
Deep Cleaning – Our expert cleaners will do the sweeping, vacuuming, and mopping of all floors.
Bedroom Cleaning – We change the linens, clean the futures, glass surfaces, and fixtures.
Bathroom Cleaning – To get rid of the dirt on showers, toilets, mirror, shower stalls we have expert team proactively working for you.
Kitchen Cleaning – We help to remove the grease and stains from the countertops, appliances and also clean the trash.
Frequently Asked Questions
Can You Offer Guaranteed Cleaning Services?
Yes. We have a team of experts holding professional knowledge about cleaning and besides they are equipped with top-notch equipment to ensure maximum cleanliness. Therefore, our services ensure flawless cleaning every time.
Our Airbnb cleaning Sydney service can be availed by users within the next day. We understand the need for a cleaner within short notice, therefore our services are available within the next day.
Do You Use Chemical-free Products?
All our products are 100% chemical-free and environmentally friendly.