Your Reliable Housekeeping Professionals In Sydney
Easy online booking.

Detailed and deep cleaning.

100% satisfaction guarantee.

Certified professionals at your services.

Free assessment prior to starting the cleaning process.
Personalized Cleaning Solution Cater to Your Needs!
We understand that a busy schedule makes it difficult to maintain a properly cleaned home. This results in an untidy home with stained carpets, dusty upholstery, unwashed curtains | floor, over time. Not only it can be damaging to your family's health but also your pets.
Once the place becomes the breeding ground for bacterias and germs, diseases comes knocking at the door. Therefore, you end up having a long list of problems over time.
However, relying on a professional housekeeping company in Sydney will leave you a lot more free time to focus on important work. Our professional cleaners equipped with quality technology can clean your home thoroughly within a brief time. Apart from cleaning, there are other important works that you may not find enough time to do. So, leave the hassle on housekeeping Sydney cleaners. Coupled with experienced cleaners and trained professionals we can provide the best housekeeping services and leave you with a relaxed and comfortable space.
Our Premium HouseKeeping Sydney Service Has to Offer!
Today work-life balance is much-underrated quality. However, you're no super-human capable of operating all your household chores while compromising your daily sleep schedule. It's not beneficial for your longterm health as well. Having housekeeping professionals in Sydney to take great care of the large portion of your household chores, you can find a time and keep your sanity. Our services come in all sizes and shapes with a range of affordable pricing options. We are able to perform your cleaning and other work with guaranteed quality. Let's gaze at the services designed for your needs.
Bedroom Cleaning Services
Our housekeeping Sydney service also includes bedroom cleaning services. Starting from cleaning the floors, vacuuming or mopping it, making beds, cleaning the windows, door frames, knobs, switch plates, baseboards, dusting the lampshades, picture frames, lamps, surfaces, wiping the furniture, emptying the trash bins, our experts to it all. Aside from that we also remove the cobwebs to keep the allergens and germs away. However, our housekeeping services don't include exterior window cleaning, heavy wall scrubbing, cleaning the animal waste.
House Cleaning Service
From vacuuming all the rooms including the stairs, hardwood, carpeted rooms, tile floors, our experts will remove the furniture and vacuum up the pet hair, crumbs, dust. We ensure you to provide you a dust and dirt free room. Therefore, our area covers the dusting of mantles, fan blades, window sills, wardrobes, dresser, side tables, picture frames, light fixtures. This will leave you with a tidy home with little to no bacteria that could have caused you a number of diseases.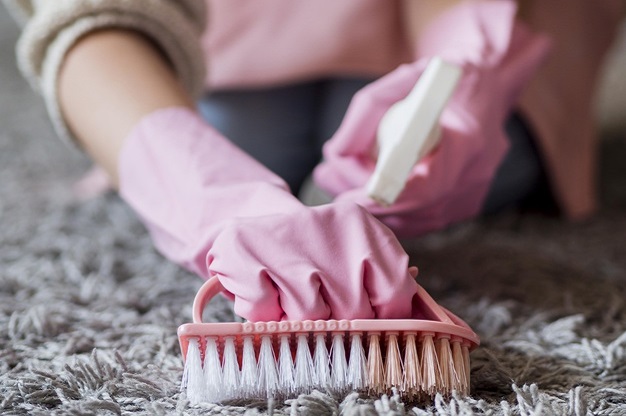 Janitorial Cleaning Services
Bathroom cleaning can be the most tireless job that house owners can ever think of. However, this place needs to be cleaned by a professional cleaner like our housekeeping Sydney services, to ensure germ-free and bacteria-free toilet seats. We help your clean and sanitize the entire surfaces, doorknobs, hardware, cabinet's exterior, switch plates, and mirrors. Aside from that we clean and spray disinfectant to the sensible areas including the bathtub, toilet seat, shower, sink, etc. This will leave you with a clean and tidy bathroom after every cleaning.
Kitchen Cleaning Services
For most people with an active lifestyle cleaning the kitchen including the countertops, surfaces can be quite a hectic job. However, kitchens become the breeding ground for the germs and bacteria within a snappy time. To leave you with some free time, our housekeeping professionals in Sydney services include professional-grade kitchen cleaning. We clean and sanitize the surfaces, countertops, floor, doors, knobs, tables, etc. Apart from that our additional services also include cleaning the dishes, window exterior, cupboards interior, oven, and cabinet. But it doesn't include unclogging the drains or pipes and repairing the appliances.
OZYWideCleaning Additional HouseKeeping Services
OZYWideCleaning your reliable housekeeping professional in Sydney offers additional housekeeping services that can be customized as per your needs. This includes regular cleaning, refrigerator cleaning, changing your bed linens, etc. We recommend contacting our team to customize your plans according to your needs. Our premium housekeeping services have unavoidable reasons to leave you dazzled. This includes,
Trusted services all over Sydney.
Get freshly cleaned home after every clean.
All our housekeeping services come under an affordable shade.
An open line of communication to build trust among our customers.
We sanitize the floors, bathroom faucets, sink basins, to kill the germs and allergens.
Frequently Asked Questions
Can I Clean Anything With a Hired Housekeeper?
This is often a misconception people bear. OZYWideCleaning, a premium housekeeping agency in Sydney provides the necessary services to cut the hassle of your household chores. However, our services don't include cleaning the bio-hazards, decluttering the house, etc.
Why Should I Hire a Professional Housekeeping Services?
A professional housekeeper is a trained professional who holds the knowledge and experience to get a job done. Meanwhile, you can save a lot of free time and focus on other important aspects.
How Do You Guarantee Customer Satisfaction?
Coupled with our trained professionals and state-of-the-art equipment we happily assist you. If an issue arises, our team never denies or neglects rather resolve it with promptness. We are never satisfied until we make you satisfied. Therefore our efforts are dedicated to satisfying your needs.